Accident
American military helicopter burst into flames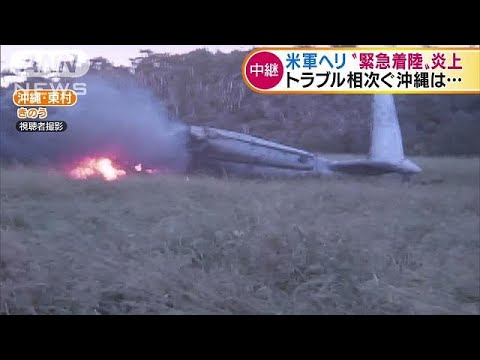 An American military helicopter burst into flames after landing in an empty field in Okinawa Wednesday. No injuries were reported.
The U.S. Marines said the CH-53 chopper caught fire during a training flight and was forced to land in the village of Higashi, which is outside the Northern Training Area.
NHK showed dramatic footage of firefighters battling orange flames after dark and plumes of black smoke billowing from the aircraft.
Japanese authorities asked the U.S. military to provide a full report and take steps to prevent similar accidents.
"Accidents by the U.S. Marine Corps are continuing. We want to communicate to the U.S. side that we demand safe operations," Defense Minister Itsunori Onodera told reporters.
According to eyewitnesses cited by NHK, the accident occurred shortly after 5:30 p.m.